Cleveland Medical Malpractice Lawyer
Experienced Cleveland OH Medical Malpractice Lawyers
As a community, we rely on nurses, doctors, and caregivers to provide care and treatments that work in the best interests of our bodies and our prolonged health. As such, medical providers and the health care facilities at which they work are bound to an oath of providing a certain standard or "duty" of care. Should they fail to provide adequate and appropriate care, they put your health at risk and potentially cause further harm. You may end up sicker than before or with painful, permanent, or even life-threatening injuries. If this is the case for you or a loved one, you may have a medical malpractice claim on your hands.
Top Rated Medical Malpractice Attorney in Ohio
The Cleveland medical malpractice attorneys at Joseph Law Group have been working with victims of medical malpractice for decades. We understand the complexities of this area of law and know what it takes to bring forth a strong medical malpractice lawsuit. Our Cleveland-based law firm aggressively fights for justice for our clients, ensuring the appropriate medical provider is held responsible for their critical mistake. Our award-winning trial lawyers will treat you with the dignity and respect you deserve while working to obtain maximum compensation to help cover any damages you may have experienced. Call an experienced medical malpractice attorney at Joseph Law Group today for a free consultation to discuss the potential of your Ohio medical malpractice case.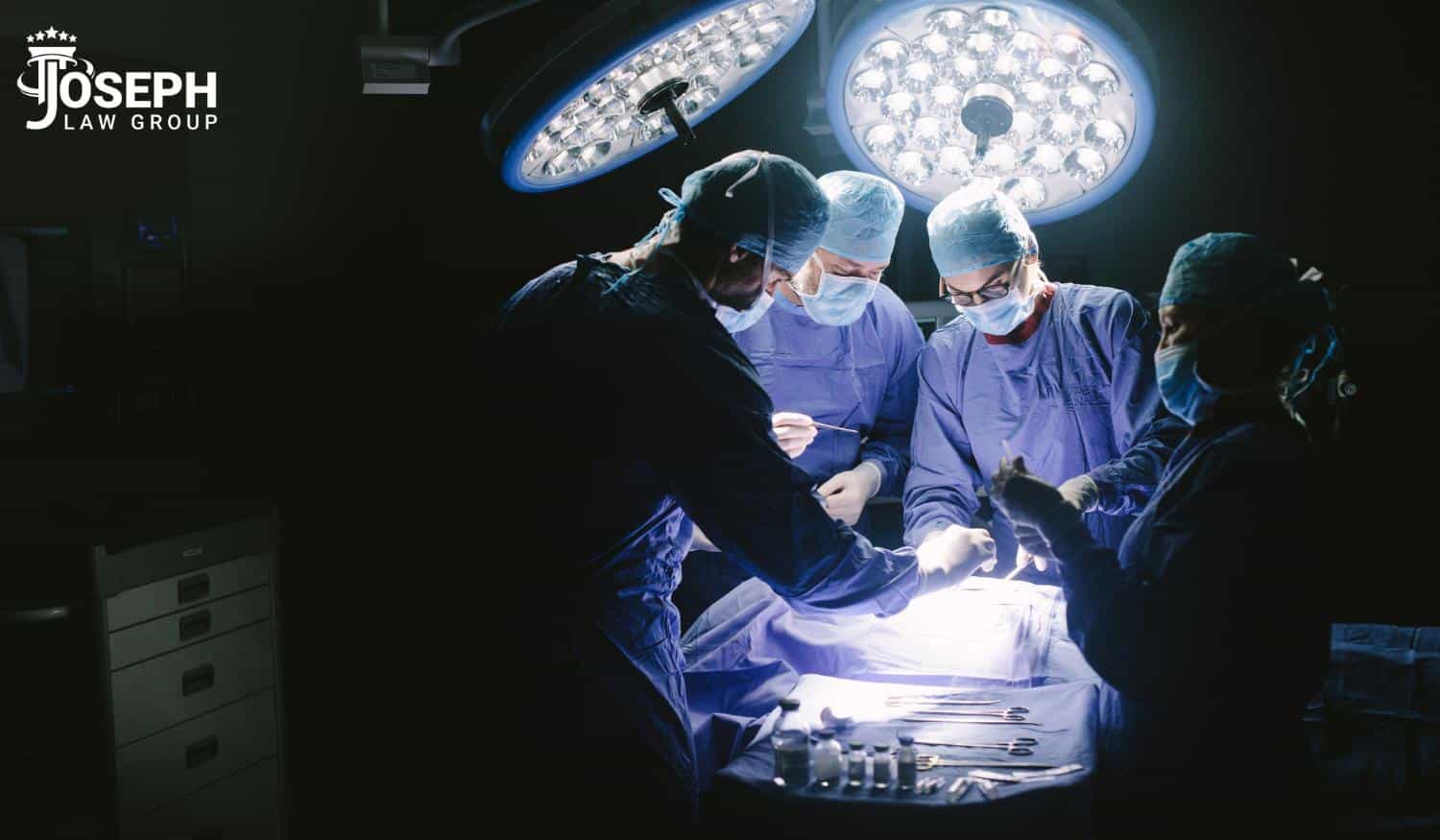 Types of Medical Malpractice Cases
Cleveland, OH has some of the best hospitals in not only the state but the entire country. Unfortunately, that does always mean you're 100% protected from experiencing medical negligence in Cleveland. When medical providers fail to provide a certain level of care, they may be legally responsible for any injuries that result from such medical negligence.
Our Cleveland medical malpractice lawyers hold providers and medical professionals responsible for neglect and mistakes, including those involving:
Birth injuries
Surgical errors

i.e. wrong-site surgery, harming other organs during the procedure, failure to use proper surgical tools, leaving instruments or sponges in the body, etc.

Improper anesthesia and techniques
Failure to diagnose
Failure to treat
Failure to manage
Hospital negligence
Nursing negligence
Incorrect prescriptions and drug administration

i.e. administering the wrong medication, overdosing the patient, and other medication errors

Improper transfers
Emergency room errors
Inappropriate use of restraints
Nursing home neglect

Includes both neglect and blatant nursing home abuse
Our medical malpractice attorneys handle cases involving both medical and nursing home personnel, providers, and facilities. Whether you were injured in a hospital, an ambulance, a nursing home, or a private practice, we will aggressively advocate on your behalf
Common Medical Malpractice Injuries
Any medical procedure has its risks, and a medical professional should take proper care to warn patients of these risks. However, there is a difference between experiencing injuries from common risks and side effects and experiencing injuries due to the negligent medical errors of a healthcare provider. Some of the more common injuries our Cleveland medical malpractice lawyers see in a malpractice claim include:
Traumatic brain injuries
Birth trauma
Spine, neck, and back injuries
Paralysis
Sepsis
Amputation
How To Prove Medical Malpractice in Ohio
Though they range from state to state, medical malpractice claims are often very complex in any jurisdiction. Ohio is no different. This is because your Cleveland medical malpractice attorney must be able to prove that a specific violation occurred and that this violation directly caused you serious harm.
For Ohio medical malpractice lawsuits to proceed, they must be supported by what is called an "Affidavit of Merit." This means that qualified medical experts must swear under oath that they 1) have gone through all of the plaintiff's medical records, 2) are familiar with the standard of care applicable to the plaintiff's treatment, and 3) fully believe that the plaintiff was harmed as a result of the medical professional in question not following the appropriate standard of medical care.
Due to the difficult nature of these claims, it is important that you hire an experienced Cleveland medical malpractice lawyer to ensure your best shot at a favorable outcome.
What Damages are Awarded for Medical Malpractice Cases in Ohio?
In Ohio medical malpractice cases, an injured plaintiff may be awarded for calculable losses, known as economic damages, and noncalculable losses, known as non-economic damages. Economic damages are losses that you can essentially put a price tag on. This includes financial losses such as:
Medical bills (including those that may occur in the future)
i.e. ambulance rides, emergency medical treatment, surgery expenses, overnight hospital stays, rehabilitative services, medication costs, etc.
Property damage
Lost wages
Loss of earning capacity
Value of domestic services
Noneconomic damages, on the other hand, are those which are meant to compensate a victim for intangible losses. As such, these tend to be more subjective and vary from case to case. Non-economic damages may include, but are not limited to, the following:
Pain and suffering
Mental duress
Permanent disfigurement
Loss of enjoyment of life
Loss of consortium
Why You Need a Cleveland Medical Malpractice Lawyer
Medical malpractice is one of the hardest personal injury claims to prove, as doctors have many built-in protections and often very well-versed attorneys of their own. This is why, to be successful in pursuing a medical negligence claim, it is imperative that you obtain the help of experienced medical malpractice attorneys.
There are many law firms out there that handle these types of claims, but you want a Cleveland law firm that has a formidable reputation for winning. The Joseph Law Group represents clients across Ohio in even the most complex of medical negligence cases. We have a long and successful track record when it comes to holding health care providers responsible for medical mistakes that result in the injury or wrongful death of a patient. We recognize the potential repercussions that may come with a serious medical error, including those that are physical, emotional, and financial. The empathy we feel for our clients lights a fire under us, ensuring we do everything we can to obtain maximum compensation for them so they can focus all of their energy on healing. It is our promise that we will carefully investigate and assess every aspect of your case so that each and every loss you experience will be properly compensated.
Call Our Cleveland Medical Malpractice and Personal Injury Law Firm Today
For a Cleveland law firm that is experienced in medical malpractice litigation, reach out to Joseph Law Group today. Our trial attorneys are prepared to pursue your claim and get you the financial compensation you deserve. To speak with a Cleveland OH attorney about your medical negligence case, call (216) 522-1600 today for a free consultation. Once a formal attorney-client relationship has been established, we will get straight to work on your case
GETTING A SECOND OPINION IS WISE FOR MEDICAL MALPRACTICE CLAIMS
If an individual suspects they have a medical negligence claim, it's wise to get a second opinion. Attorney Joseph T. Joseph Jr. explains the importance of this in a medical malpractice case.
HOW DO I KNOW IF I HAVE A MEDICAL MALPRACTICE CLAIM?
When analyzing a possible medical malpractice claim, Attorney Joseph T. Joseph Jr. first looks to see if an individual suffered a significant injury or harm.
A FINE LINE IN MEDICAL MALPRACTICE CASES
There's a fine line between when malpractice occurred or the harm is an accepted complication. Attorney Joseph T. Joseph Jr. outlines the difficulty in finding where the line lies.
Let's Talk About Your Case
The insurance industry is built on the avoidance of making any payments on claims. They see claims as liabilities, and initially deny, defend, and delay a claim to limit that liability and save money for the company. Ultimately, it is the job of the attorneys at Joseph Law Group to advocate on behalf of our clients and to give the insurance companies and adjusters enough reason to pay an amount of money that is fair under all circumstances. When you hire Joseph Law Group to represent your claim, you are getting a full-service team of dedicated attorneys and paralegals who will be committed to pursuing the best outcome for you from day one until trial.
LEARN MORE