PROVIDING 5 STAR LEGAL SERVICES FOR OHIO INJURY VICTIMS
Meet the Team
We are here to help.
Joseph Law Group, an Ohio personal injury law firm, was founded in 2003 with a mission to provide diligent, compassionate legal solutions to injury victims and their families throughout Ohio. We believe in providing a voice to injury victims, advocating for justice and seeking compensation to aid recovery efforts.
When you hire the Joseph Law Group you get a compassionate, responsive lawyer who's experienced at fighting the insurance companies. He'll represent you and your family with his full effort. You can focus on your recovery and Joe and his team will handle everything else.
To find out more about our Cleveland personal injury law firm and attorneys, please click on the biographies below:
Experienced, Responsive Advocates Fighting For You
We understand the effect an injury can have on your life. Our personal injury law firm knows that the impact isn't just physical; it is also emotional and financial. Because of this, we do not require any retainer fees or down payments for our services. Your recovery is our priority, so we do not get paid unless we help you receive the compensation you deserve.
Representing Injury Victims Around Ohio
With decades of combined experience and a solid working knowledge of all areas of law concerning personal injuries, wrongful death claims, medical malpractice suits, nursing home negligence and slip-and-fall liability, just to name a few, we are equipped to serve victims who have been injured in a variety of circumstances. We will use our legal knowledge in conjunction with outside experts to build a strong claim and advocate on your behalf. We are a family-owned personal injury law firm in Cleveland, Ohio, and our personal injury attorneys offer personalized one-one-one attention and get to know every client.
Our commitment to our clients is our top priority. If you have been injured, don't face the burden alone. Contact our Cleveland based personal injury law firm today and let us help you. Call 866-522-1402 or contact us online to schedule a free consultation. We never collect a fee unless you recover compensation. With offices in Cleveland and Youngstown, we serve clients throughout Ohio and routinely travel to meet clients for initial consultations.
Joe Joseph Senior
Lead Investigator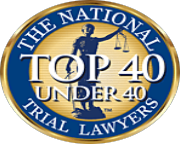 HEADQUARTERS

3690 Orange Place - Suite 175
Beachwood, Ohio 44122
Toll-free | 866-522-1402
Greater Cleveland | 216-522-1600
Youngstown/Akron | 330-797-0481
Southeast Ohio | 740-212-8180
Columbus | 614-591-3670
Toledo | 419-273-0380
Cincinnati | 513-880-0325