PROVIDING 5 STAR LEGAL SERVICES FOR OHIO INJURY VICTIMS
At Joseph Law Group, we are dedicated to vigorously protecting the rights and interests of those who have been hurt due to another party's negligence or recklessness.
We believe integrity is our most valuable asset at Joseph Law Group. By upholding the highest ethical standards, we have earned our longstanding reputation for excellence.
Our attorneys are very real with our clients. If your situation does not require a lawyer, we will tell you. However, if you have a legal claim that we believe we can win, we will set realistic expectations at the beginning of each case. While it is our goal to obtain the maximum amount of compensation each of our clients is entitled under the law, we are careful not to over-promise results. We also do not take a fee unless we recover compensation for you, thereby eliminating any financial risk to you in hiring us.
With decades of combined experience and a solid working knowledge focused exclusively on personal injury law,we are uniquely equipped to  serve victims who have been hurt in a variety of circumstances. Our attorneys are skilled negotiators, familiar with the ever-changing laws associated with presenting personal injury claims to insurance adjusters, and have the
necessary tools and resources to present your case to a jury if necessary.
We understand the physical, emotional, and financial impact that an injury has on a person and their family. Our aim is to provide caring and compassionate service to help you regain control over your life so that you can build a better future.
Our attorneys are skilled in the art of evidence, procedure, and litigation. We command respect in the courtroom and advocate aggressively to ensure the best
legal outcomes possible. If you hire our law firm to represent you, our attorneys are not afraid to litigate your case and fight the insurance companies vigorously to get you the best outcome possible.
Our success is driven by our five-star approach in seeking justice for the injured. We believe taking this 5-Star Approach allows us to deliver justice for the injured and that is our primary goal for each of our clients.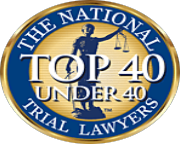 HEADQUARTERS

3690 Orange Place - Suite 175
Beachwood, Ohio 44122
Toll-free | 866-522-1402
Greater Cleveland | 216-522-1600
Youngstown/Akron | 330-797-0481
Southeast Ohio | 740-212-8180
Columbus | 614-591-3670
Toledo | 419-273-0380
Cincinnati | 513-880-0325