PROVIDING 5 STAR LEGAL SERVICES FOR OHIO INJURY VICTIMS
Motor Vehicle Accidents
Top Rated Auto Accident Lawyer in Ohio
Fighting For The Rights Of Motor Vehicle Accident Victims
Transportation is a part of everyday life. You make your way to the grocery store, visit family, head to work and go out for fun. You follow the rules, abide by the speed limit and use your turn signal when switching lanes. Other drivers should do the same, but distractions, cellphones, drowsiness and other factors often cause motorists to become negligent behind the wheel and lead to accidents.
If you were injured or a loved one was killed in an auto accident, Our Cleveland car accident attorneys at Joseph Law Group can help. We are dedicated to assisting injury victims and their families. Our auto accident lawyers will investigate all possible avenues of recovery and seek compensation and justice on your behalf.
Seeking All Possible Compensation
If you or a loved one suffered injuries due to the carelessness of another driver, you likely have a lot of legal questions. Our family-owned law firm will always work in your best interests and fight for your rights. Our attorneys provide the superior customer service and personalized attention you need throughout every step of your case.
Ohio law recognizes your right to be compensated in several areas. We will fight for all possible compensation applicable to your situation, including:
Physical injuries
Hospital and medical expenses
Loss of income and earning capacity
Long-term medical treatment
Pain and suffering
Sometimes, multiple parties are responsible for an accident. We will pursue all avenues to obtain justice and accountability.
Offering Comprehensive Auto Accident Services
With decades of combined experience working with injury victims and an in-depth knowledge of laws and processes, our personal injury lawyers are equipped to help those hurt in a variety of motor vehicle accidents, including:
Car crashes
Commercial truck wrecks
Bicycle accidents
Motorcycle crashes
Pedestrian accidents
Boating and watercraft collisions
Aircraft accidents
Motor vehicle accidents result in a wide array of injuries, from minor to catastrophic to deadly. We will use our resources, including investigators, doctors, nurses and other experts, to help support your claim and provide testimony if need be.
MISCONCEPTIONS ABOUT PERSONAL INJURY CLAIMS
Attorney Joseph T. Joseph Jr. dispels the misconceptions behind personal injury claims and how lawyers can protect an injured victim's rights.
INTERSTATE TRAVEL RISKS ABOUND
As summer travel season kicks into high gear, so does the risk of an accident. Attorney Joseph T. Joseph Jr. outlines the law behind interstate accidents, and what body governs a claim.
WHAT AM I ENTITLED TO IN A PERSONAL INJURY SETTLEMENT?
In theory, a personal injury statement is supposed to make you whole again. Attorney Joseph T. Joseph Jr. discusses what an injured victim is entitled to, and how a personal injury lawyer acts as your advocate.
WHAT SHOULD I DO AFTER BEING INJURED IN A CAR ACCIDENT?
Cleveland personal injury attorney Joseph T. Joseph, Jr. says the very first thing you should do when in a car accident is to be mindful of your personal safety.
Employing Teamwork And Personal Attention
If you or a loved one is seriously injured or killed in an accident, we will fight to achieve the best possible outcome on your behalf. Call 866-522-1402 or contact us online to speak with an experienced personal injury attorney. We offer free initial consultations and never charge a fee unless we are successful in helping you recover compensation. We proudly advocate for injury victims throughout Ohio.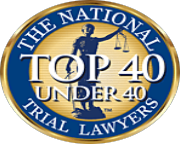 HEADQUARTERS

3690 Orange Place - Suite 175
Beachwood, Ohio 44122
Greater Cleveland | 216-522-1600
Youngstown/Akron | 330-797-0481
Southeast Ohio | 740-212-8180
Columbus | 614-591-3670
Toledo | 419-273-0380
Cincinnati | 513-880-0325